The Swiss Pavilion at the 11th International Architecture Biennale Venice.
ヴェネチア・建築ビエンナーレのスイス館。何と言っても驚きはブロックで作られた3次元にうねる壁。緻密に作成されたプログラムに従って、ロボットが積んでいったものです。精密な作業が得意な日本人なら人の手でもできるかもしれませんが、ズレと角度をそれぞれ計算していくのは簡単なことではありません。人の代わりとなるロボット技術ではなく、むしろロボット技術でしかできない空間というのもあり得るのではないかと思わせてくれました。
川岸はETHでやったエチオピアのアーバンデザインプロジェクトを担当しています。中央のスクリーンに映されているムービーではエチオピアとスイスの両方で撮影した都市の雰囲気や人々などを比較しながら、それぞれの都市としてのクオリティを見せようとしています。結果としては都市自体を伝えることはやはり難しく、デザインプロジェクトとの関連性を見せるのもこれまた難しく。。。アカデミックなアーバンデザインプロジェクトをどうやって見せるか、または評価するか、はすごく重要な課題だと思います。
13日のディスカッションではチリの建築家アレハンドロ・アラヴェナとカリフォルニアの建築家テディ・クルツによるスラムエリアのUPGRADINGプロジェクトが非常に印象的でした。やはりこれくらいチャレンジングなものをやって初めて、新しい建築のタイポロジーが生まれるのかなという気がしました。おもしろいのでぜひ一度見てみてください。
ELEMENTAL / Alejandoro Aravena
http://www.elementalchile.cl/
Estudio Teddy Cruz
http://estudioteddycruz.com/


The wall by Gramazio & Kohler was really impressive. It is used as a partition, but it also acts
as a screen or an art. It has a strong impact, a lot of people were coming witnessing this strange wall. Then you can find it was made by a robot. Amazing!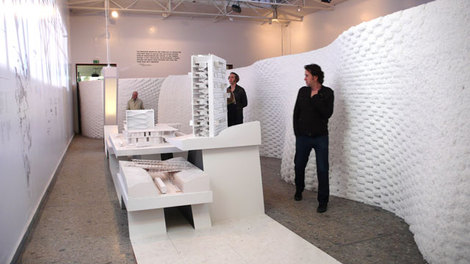 This part was the urban design project in Havana, Cuba, by LAPA from EPF Lausanne. I liked their approach to start from urban research level, to mock-up prototype.


The making movies of digital fabrication designed by Gramazio & Kohler. I thought it is quite new. Because normally structure is required only for strength, decoration part is added on the structure, but this structure has already artistic senses without having an additional layer.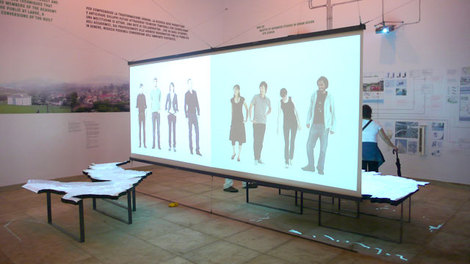 This is our exhibition. I was mainly working for the movie it is shown on the screen. Our movie provides a sense of both cities, Addis Ababa in Ethiopia and Schwyz in Switzerland, in order to compare and find out characteristics of each city.


On the 13rd of September, there was a symposium organized by Reto Geiser and Andreas Ruby. Prof. Marc Angélil was presenting the aim of our Ethiopian project.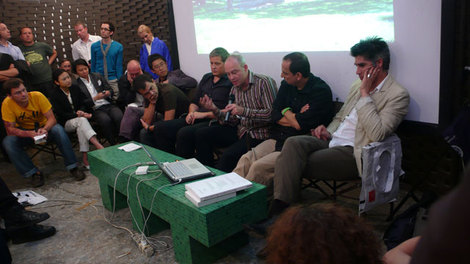 The presentation of Alejandro Aravena and Teddy Cruz were really impressive, they both presented their urban upgrading projects in Chile and in Tijuana. Their upgrading prototypes were well considered and successful projects.